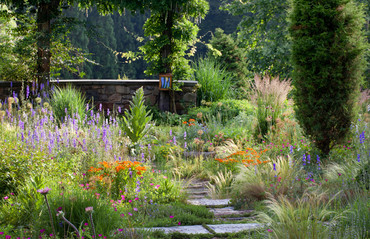 We gardeners know better than most the importance of good soil, clean water, fresh air, and healthy ecosystems.
So, if you agree that 2017 is off to a bumpy start, may I suggest you really get to know your legislators this year. I've always meant to but never made it a priority.
Now I plan to meet my lawmakers face-to-face at their neighborhood meetings, and be in their face as issues come up. Helping me will be Hoosier Environmental Council and Indiana Wildlife Federation, who are both tracking the progress of legislation related to conservation and the environment.
Power to the gardeners!
View February 2017 HortusScope as a printable PDF file
♦♦ Thank you Jo Ellen Meyers Sharp and Sara Zeckel for your kind support of HortusScope.
Photo Notes
I couldn't resist posting this lush garden pictured in the Indianapolis Museum of Art's promotions for their February 11 Horticulture Symposium 2017: The Garden Reimagined.
The day-long event focuses on design this year and draws upon experts from Chicago Botanic Garden, Chanticleer, Arrowhead Alpines, North Creek Nurseries, and the IMA's own Horticulture Director Jonathan Wright.
See you there!